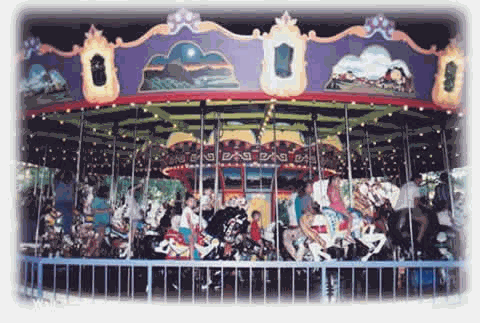 Call it a Carousel, a Roundabout or a Merry-Go-Round -- it is still one of the most durable and popular amusement rides ever constructed. Despite its humble beginnings as a training tool for horsemen, the Carousel has grown to become synonymous with fun, and is the one piece of apparatus no fairground, carnival, theme or amusement park can afford to be without. They are often the first ride we dare as children, yet even the oldest among us can sometimes be spotted in an ornately carved chariot enjoying a spin right alongside their galloping grandkids.
You don't even have to ride one of the many fine old antique Carousels still operating to appreciate the craftsmanship in its detailed woodwork, or to enjoy the old fashioned sound of its band organ. A fine Carousel is a work of art, sometimes too beautiful for its own good -- we've lost whole Carousels to dealers who discovered that the individual horses could sometimes be more valuable as separate collectibles than as parts of a working ride. Fortunately, many parks and communities are waking up to the treasures in their midst and are now working to restore and preserve these historic Carousels so that they will always be there for our kids, and their kids, in the future. But the best way to keep them turning is also the most enjoyable -- grab kids and go and ride one!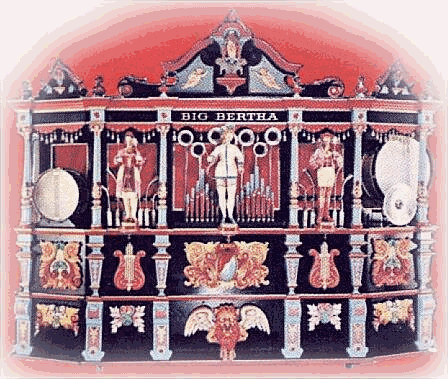 The Band Organ Story
The history of the Carousel band organ can be traced all the way back to the late nineteenth century when these instruments were being imported principally from Germany, France and Belgium. By turn of the century, as carnival owners lined up in droves to get one, band organs were beginning to be made in the US. The most prominent maker of band organs was WurliTzer, which made their last organ in 1942.
In the 1960s, carnival owners began to sell their organs as they were tired of the maintenance and the heavy lifting involved. The advent of High Fidelity sound recordings put an end to the band organ as midway people were quick to change to recorded music.One Minnesota carnival operator confessed that his Carousel ridership dropped off 40% the first year he did not have his band organ. He was further frustrated to find that he had sold a valuable antique and it would cost many times more to buy another.
This sad state of affairs contributed directly to the demise of the Carousel as many operators sold their rides. Ride manufacturers took Merry-Go-Rounds and Carousels out of their catalogs.
More recently, carnival operators have heard comments from the public that they miss the band organs. Some more enterprising owners have upgraded their sound systems hoping for better ridership only to find that there is no improvement.
In the 1990s, several ride makers are again offering new Merry-Go-Rounds with some being highly decorated like the turn-of-the-century Carousels. The band organ in conjunction with the traditional Merry-Go-Round has been found an indispensable item. Another way of stating it is that the Merry-Go-Round without a band organ has no soul. People are not interested in riding to the sounds of blaring speakers.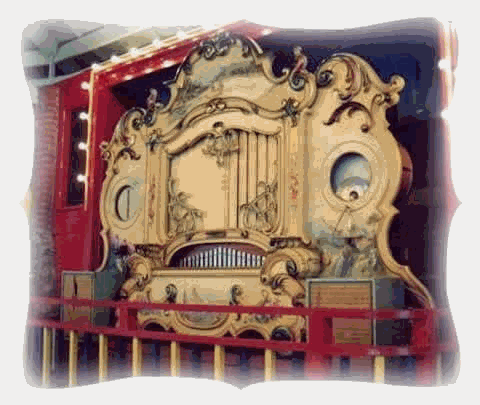 Fairground organs, or band organs, comprise some of the most colourful automatic musical instruments ever made. These instruments, loudly-voiced so they could be heard above the surrounding din, provided music for Carousels, carnivals, circuses, amusement parks, skating rinks, and similar attractions. Typically, such an instrument contains several ranks of organ pipes, all voiced on high wind pressure (usually from 8 to 12 inches of water-column pressure). In accompaniment to the organ pipes, limited percussion effects -- usually a bass drum, snare drum, cymbal, and some special effects devices like xylophone, marimba, Chinese blocks, and gong -- are used. Fairground organs were designed to play loudly -- in order to be heard above the noise of the Carousel, dozens of skaters, or carnival rides and, equally important, to act as a Pied Piper to draw crowds from far and near.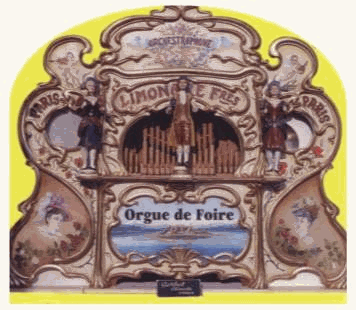 The following music selections were digitized in PCM format, at 22,050 Hz, 8 bit, mono, and have a slightly compressed quality to the tone. Recording in 8 bit reduced the file sizes by half and was a worthy compromise. While the original RollerCoaster Tycoon dat files were recorded in 16 bit, the overall tone quality of the new dats are, all things considered, superior.
To make these new selections work, you must have performed a FULL INSTALL of RollerCoaster Tycoon or RollerCoaster Tycoon2 so that all the dat files are resident to, and read from, the hard drive. If you have Corkscrew Follies/Added Attractions, Loopy Landscapes expansion packs, or RCT Gold, the Drexler Patch must be also installed first to remove the anti-cheat code from the game. The Carousel music resides in several specific dat files in the game's Data folder.
The following new song titles have been arranged to replace the old (original) RCT Carousel dat files. Simply double-click the dat file number to download the new music selection.
css4.dat Alexander's Ragtime Band / Beside a Babbling Brook
css5.dat You Gotta See Mama Every Night or You Can't See Mama at All / Old Reliable March
css6.dat Missouri Waltz / Beer Barrel Polka
css7.dat Yes, We Have No Bananas / Dinah
css8.dat Barney Google / Boston Commandery March
css9.dat When My Sugar Walks Down the Street / Oh, Katherina
css11.dat Triumphant Banner March
css13.dat Sleepy Time Gal
css14.dat Doo Wacka Doo / King of the Air March
css15.dat Padolin Madelin Home / Always
Limonaire photo and historical info Encyclopedia of Automatic Musical Instruments
Carowinds Carousel and Glen Echo Band Organ Photos with the permission of Walt Reiss and Coasterquest.com
Big Bertha Band Organ www.pauleakinsnickelodeonmusic.com
NOTE: These music dat zip files, or their contents, may not be posted to any web site without my EXPRESSED permission.
Copyright ©2003
All Rights Reserved.